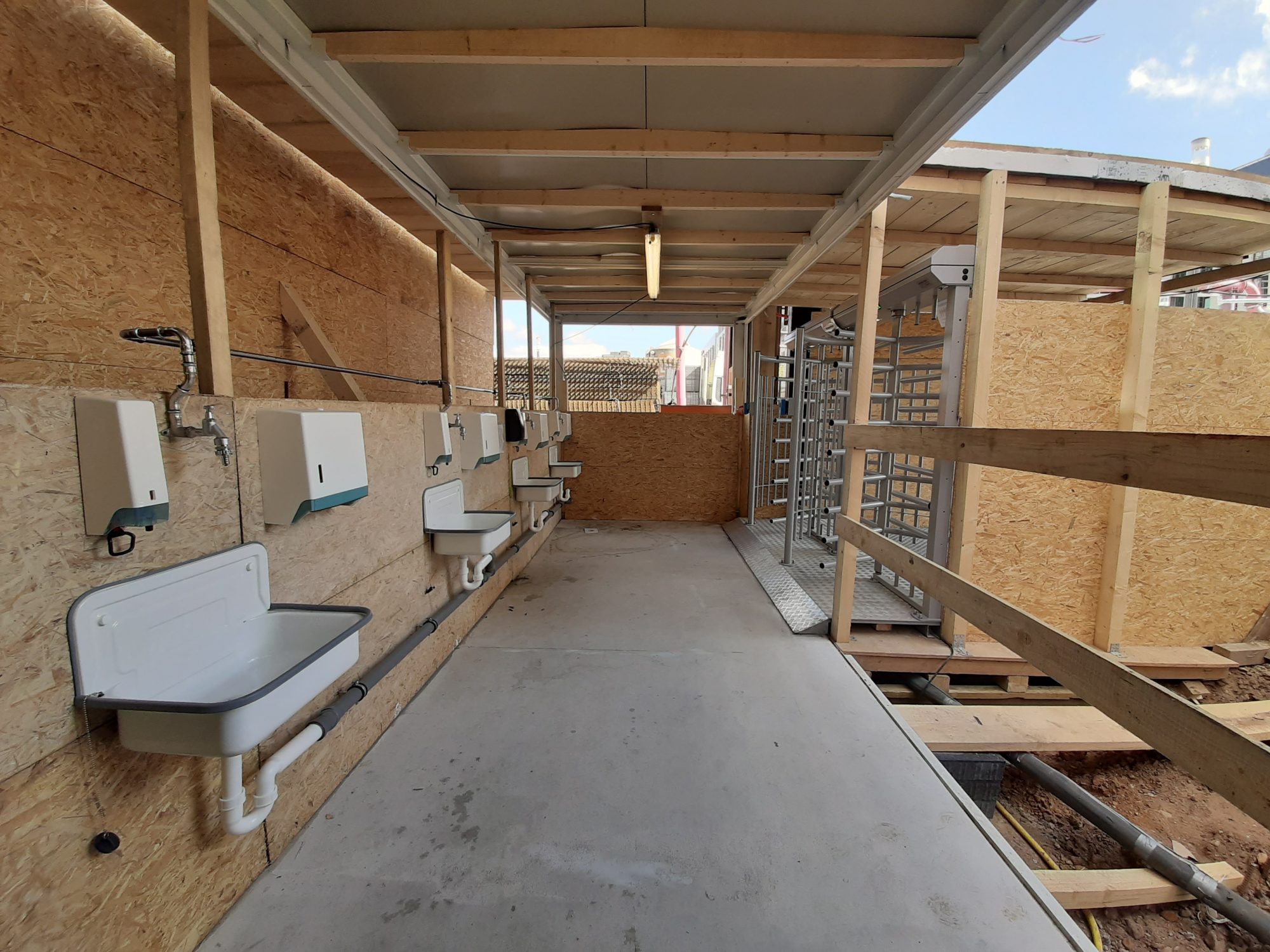 No construction delay due to corona
The necessary lockdown has brought public life and large parts of the economy to a standstill for weeks on end virtually the world over. Fortunately, however, construction sites in Germany were not affected by the closure measures ordered by the authorities. This meant operations on the ONE building site could continue.
To ensure this was the case, however, a few precautions had to be implemented at lightning speed on the construction site to protect the health of all the workers. Hence, additional washing facilities were installed and disinfectant and respiratory protection masks provided. An additional exit from the construction site was also set up. Meanwhile, instructions for how to behave were posted in multiple languages all over the site, and workers started and continue to maintain the necessary minimum distance from one another.
Although it is hard to take away positives from the lockdown, the considerable reduction in cars and goods vehicles on the roads meant that material deliveries reached the site quicker and more punctually than they otherwise would. Hence, certain processes were even speeded up on the building site. For example: The core of the building would normally rise only three or four storeys above the subsequently developed levels, but recently the number of levels could be increased.
Now, the shell construction for ONE is already complete up to the 19th floor, while the core of the high-rise has climbed even higher – to the 24th storey. The roof terrace on the 15th floor has been concreted and provides for magnificent views (find out more in the article "ONE GOOD STEP OUTSIDE. The first ONE roof terrace is fully concreted"). The façade is also following on dynamically and has thus far reached the 9th floor. This is important, because as soon as the storeys are enclosed, work can begin on installing the technology. Here, the construction site is particularly well served by the innovative JumpLift from KONE.
Yet all this is only possible when there is ONE team. And that means that project developers, foreman, subcontractors and construction staff are all working in harmony together. That was and remains the case at ONE, and for that all those involved and all the construction workers on the front line deserve huge thanks.
In fact, without modern, digital technology, none of this would have been possible. Project coordination meetings, for example, are now being consistently carried out via video conference. This is all made easier by the fact that both CA Immo and omniCon as the construction management had largely digitised and tested work processes before corona and have modern, video-supported communication technology with a very good broadband connection at their disposal.