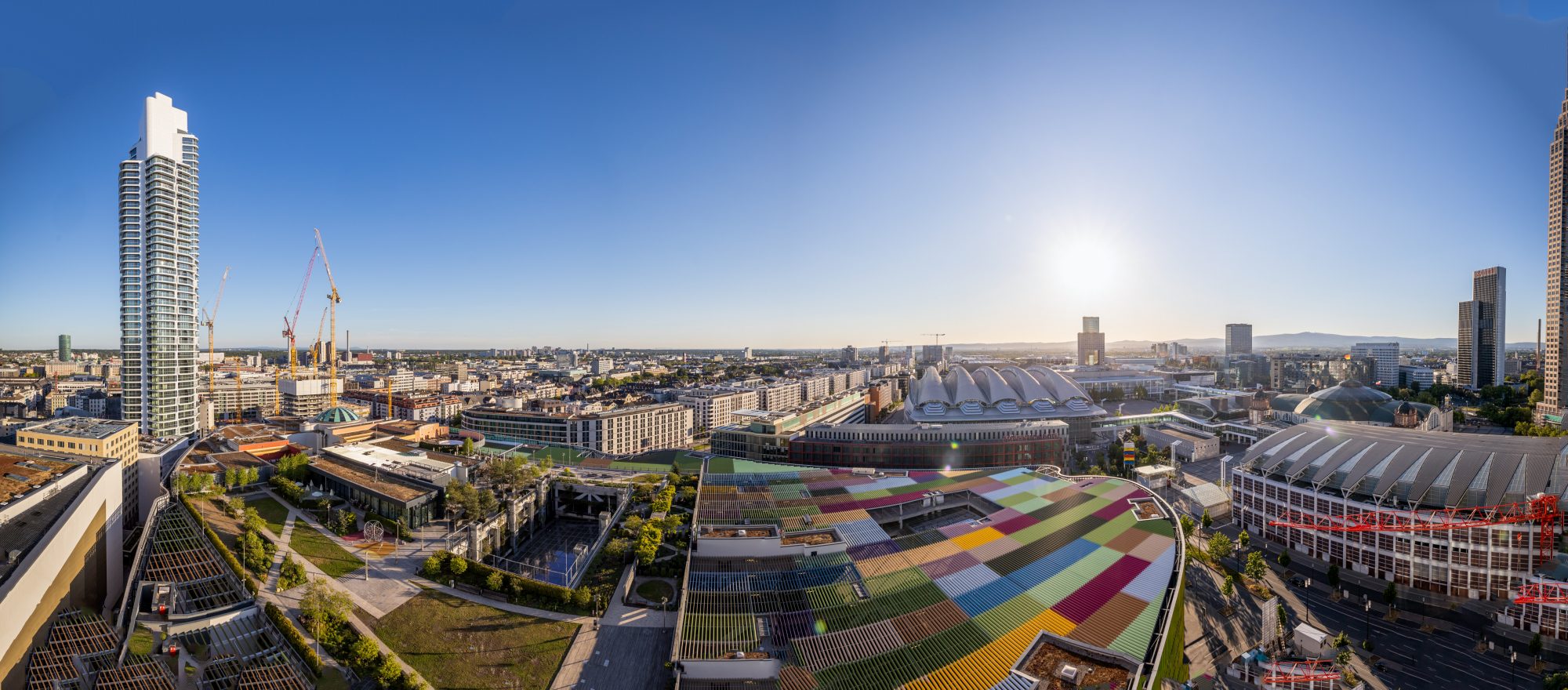 ONE GOOD STEP OUTSIDE. The first ONE roof terrace is fully concreted
From the 15th floor upwards, the floorplan of ONE changes. The southwest-facing exterior of the building recedes inwards, creating the approximately 100 m² roof terrace for the coworking area of ONE, which measures a total of 7,100 m². This surface has now been fully concreted and the structural challenges overcome, meaning coworkers can look forward to a magnificent view over the Europaviertel all the way to the Taunus.
The greatest challenge for the construction teams was the conversion of the outer climbing formwork and the white windshield visible from far away, which also displays the ONE logo. This encloses the entire floorplan over multiple storeys, ensuring the occupational safety of workers in the core beneath the climbing formwork and the safety of passers-by. The conversion measures had to be carried out on the ground which, given the tight space on the ONE construction site nestled between the Skyline Plaza, Kap Europa and Messe Frankfurt, represented quite a feat. "The shell construction team did an amazing job", enthuses René Rüweler, foreman at the CA Immo subsidiary omniCon.
So what is the view like from the roof terrace? René Rüweler is visibly charmed: "The view is really magnificent. You can look out over the whole of the Europaviertel all the way to the airport and the Taunus." For future coworkers, the roof terrace offers the opportunity to step outside at any time and also represents the perfect backdrop for informal meetings, interpersonal communication and events.
The ONE coworking space was leased as early as last year to the operator Spaces. The Spaces at ONE will encompass 7,100 m² of rental space spread over five floors and will host around 650 modern, fully equipped workplaces both in the Businessclub and in private offices. The offering is aimed particularly at the office tenants of ONE, since it will allow them to rent additional flexible and temporary space, to form working groups with external partners, or to give internal teams a different, creatively stimulating work environment from time to time.
The view from ONE will get truly spectacular in a few months when the shell of the 190-metre-high hotel and office tower is complete. By then, the wrap-around roof terrace on the 47th floor will also be finished. This will form part of the first genuinely public sky bar in the Main metropolis and will offer a 360-degree view of the skyline and the entire region.