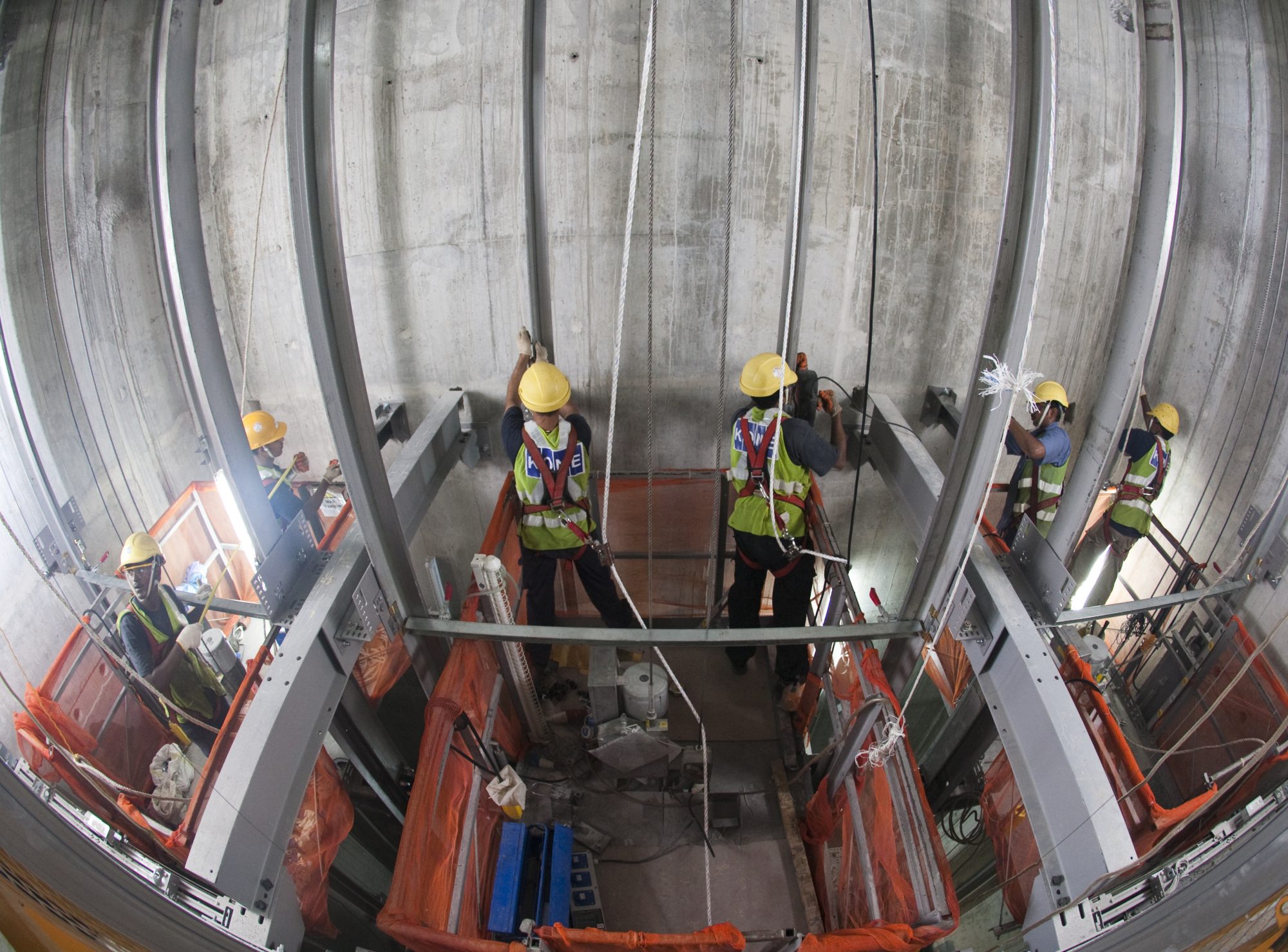 Full speed upwards – innovative lift technology speeds up construction work
The construction of ONE is characterised by highly professional planning and optimised processes. One of the many innovative ideas is the use of a JumpLift™ of the elevator manufacturer KONE. For the first time in Continental Europe, this high-speed service lift is helping staff on site to lift loads not only efficiently, but also significantly faster than would be the case with conventional construction lifts.
So what's so special about it? Unlike classic construction lifts that sit on the outside of the growing high-rise, the JumpLift™ uses a lift shaft within the core of the building.
By using the internal lift, not only external lifts can be reduced: The transport times for personnel and loads are considerably reducedand it provides for smoother installation of the façade and more rapid enclosure of the different levels.
What's more, the JumpLift essentially remains in the building even after work is completed. In the ONE, it will later serve as a fire service lift. Project Manager Thomas Link from KONE explains how it works: "We install the guide rails in the shaft along with the lift cage, which is connected to the drive mechanism via steel ropes. These, in turn, are hung from a platform at the top of the shaft. As soon as the shaft has reached three floors, we hoist up the platform with the drive mechanism and the control system and extend the guide rails upwards – the lift jumps." When the construction work is finished, the lift and lift shaft are complete with the exception of just a few floors. Then all that remains to do is hoist the drive mechanism and the control system into their final position and dismantle the provisional engine room.
Incidentally: ONE will later feature 21 lift systems from KONE. These will transport people and goods to a height of 189 metres and achieve a maximum speed of up to 7 m/s (25.2 km/h) in doing so. Here too, of course, state-of-the-art technology will be installed. Stay curious.