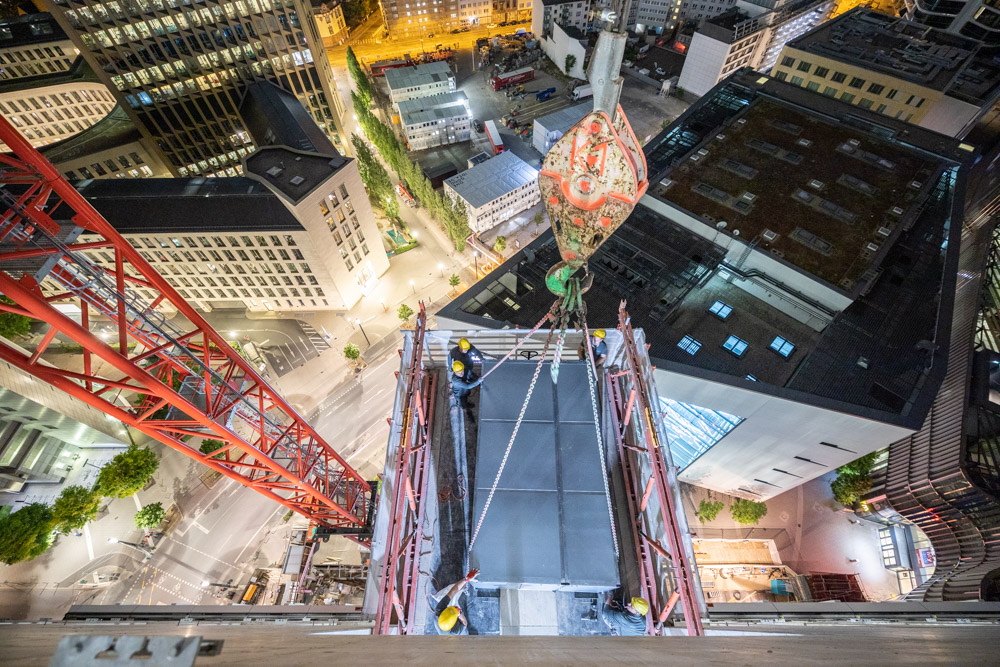 The ONE "lungs" are forming
Around one third of the way up ONE's shell, two storeys stand out from the future hotel and office floors. An external wall made of reinforced concrete breaks up the open facade. Facade elements installed in front will later make these two storeys almost impossible to distinguish, yet they will be all the more important for the building and the people within it. After all, it is here where the "lungs" of ONE are situated.
The technical centre on the 17th and 18th storeys will provide both the hotel below and the office floors above with fresh air. At its heart are two large, double-storey ventilation systems. They will ensure mechanical ventilation as well as the automatic humidification of air supplied to the office areas, thereby ensuring particularly high air quality throughout the building.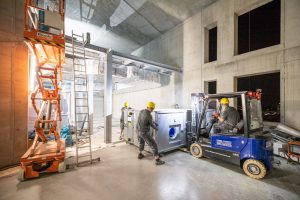 "When selecting and planning the ventilation and air-conditioning systems, energy efficiency and the use of sustainable materials were taken into account," reports Luca Winter, Construction Project Manager at omniCon, whose responsibilities include sustainability management for ONE. "It was important to us to use the latest, environmentally friendly technology."
But the concept of sustainability does not stop at the technology employed.
For example, an innovative product named "K-Flex SRC-ECO" was used as fire-resistant insulation in ONE's technical centre. It is the only thermal and acoustic insulation in the world offering fire resistance, producing extremely little smoke in the event of a fire and releasing no toxic substances such as hydrohalic acids and organochlorine compounds in its vapour. In this way, the material protects people in the building and the environment.
The fitting-out of the technical centre began in mid-July with the introduction of the ventilation ducts. Just a few days later, the imposing ventilation and air-conditioning devices were delivered and connected up. The ventilation devices and ducts take up the vast majority – namely around 80 per cent – of the two storeys.
The external concrete walls of the two technical floors represent a particular challenge for the fitting of the facade elements. For the core storeys, the builders can take up and position the facade elements from inside. Here though, installation has to take place from outside. It's a job for those with a good head for heights.