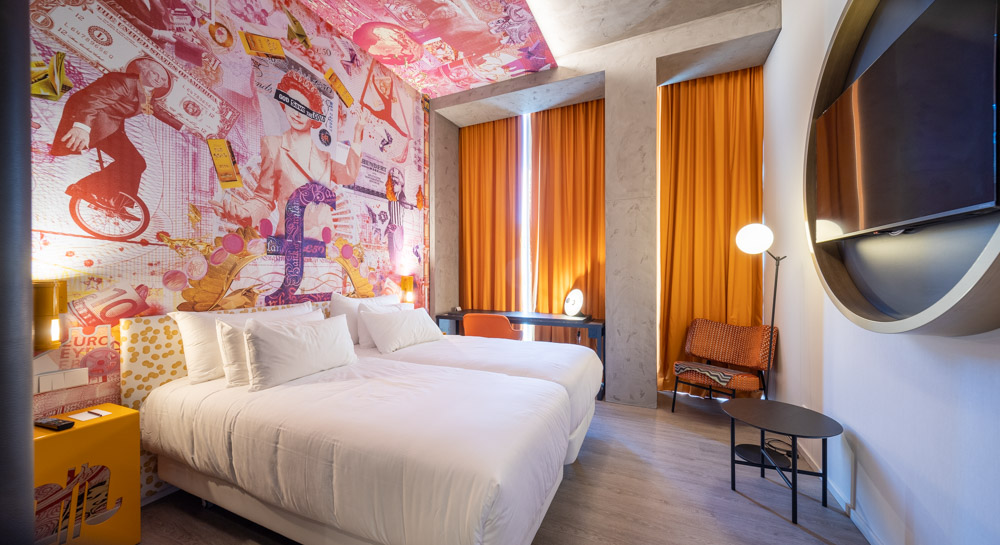 "The Art of Money" – the model room for nhow Frankfurt in the ONE is ready
"The Art of Money" is the motto of the 4-star-superior design & lifestyle hotel nhow, which will première in the ONE in Frankfurt. The design concept for the nhow Frankfurt orients itself artistically to the Main river metropolis as one of Europe's most important financial centres.
Gold-coloured material that contrasts with the natural-looking concrete, and stylised elements made of bank notes characterise the modern and unique ambiance of the hotel's public spaces and its rooms. An important milestone was reached in July: The hotel's "model room" was approved.
The goal of the completely furnished model room is to test and potentially optimize the quality of the interior finish, the material employed and the furnishing of the hotel room. The interior design concept is to be consistent down to the finest details and offer guests accommodation of the highest quality. Therefore, every step of daily hotel routine was tested in the model room.
"The finish and furnishing of the model room were officially approved by the NH Hotel Group on 7 July," reports Mike Neumann, Project Manager at omniCon. After the successful approval, the interior design of the building will be executed based on the approved model room.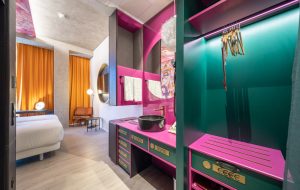 nhow Frankfurt's design concept in the ONE plays with the cliché of the modern banking city and financial metropolis that is Frankfurt and will delight with its lively mix of colours, forms and material. The interior finishing, extravagant wall design and much of the furniture was conceptualised especially for the nhow Hotel in the ONE by Rafael de La-Hoz's architecture and interior design studio in Madrid. Unconventional, cosmopolitan and surprising: The hotels of the NH Hotel Group's lifestyle brand nhow are design-oriented, state-of-the-art and full of personality.
The nhow Hotel offers 375 rooms of the 4-star superior category, a conference area, a spa and a fitness room are offered by the nhow Hotel over the first 14 floors of the ONE. The high point is the only public and true sky bar in Frankfurt with a surrounding roof terrace on the 47th floor. There is a spectacular view from here, not only of the Frankfurt skyline, but also of the Taunus. The Skybar was also conceptualised by Studio Rafael de La-Hoz and promises to be a further new design highlight in Frankfurt.
Those who would like to be among the first guests of the new nhow Hotel at ONE in Frankfurt can already reserve rooms from August 1, 2022 at www.nh-hotels.de.