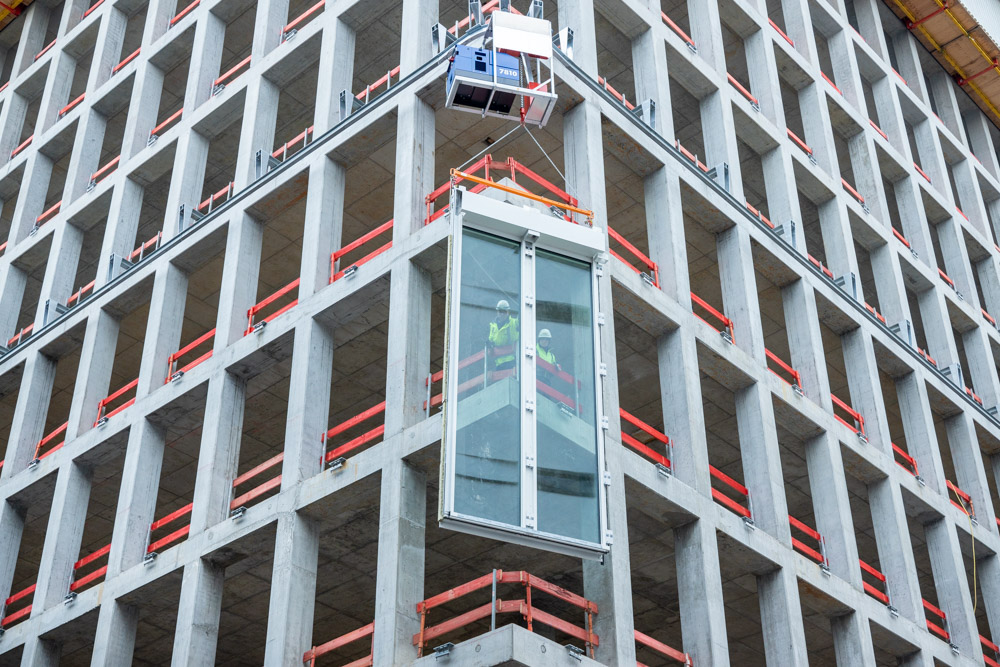 ONE's Exterior Takes Shape
The building's shell has reached the 15th floor – which, incidentally means the shell has been completed for all the hotel floors in ONE – and the process of mounting the facade is already underway. It now follows the upward striving tower. The individual facade elements can currently be installed at a rate of 12 per day. At approx. With approx. 80 elements per floor, 1.5 floors are closed approx. every week.
Architecturally speaking, ONE's simple facade makes a statement that is visible for miles around. "Unity in variety" is how architect Prof. Thomas J. Meuer describes the fundamental architectonic principle behind ONE, which is likewise embodied in the design of the facade. Meuer compares it to the casing of a modern smartphone: "From the outside, and when switched off, it has a straightforward, subtly designed casing reduced to just a few features".
INNOVATIVE SUN PROTECTION
Despite its simplicity, ONE's facade conceals several surprising and innovative features. One of these is its external sun protection, which is unique for a high-rise building of this height. But why is external sun protection necessary in the first place? Incoming sunlight has a particularly strong warming effect on office buildings. This warmth must be counteracted with energy-intensive cooling measures. External sun protection provides significantly more effective support in this regard while simultaneously making things more comfortable for the building's tenants. The problem: above a certain height, considerable wind pressure is exerted upon high-rise buildings – a pressure that conventional external sun protection would not be able to withstand. ONE's sun protection has been designed with slender proportions that lend the wind hardly any surface to exert pressure on, while at the same time offering an unimpeded view towards the outside. Yet another example of ONE GOOD IDEA.
JUST IN TIME
We have also taken a smart approach to installing the facade. The facade itself consists of prefabricated storey-high aluminium and glass components which completely enclose the space on each floor. The components are mounted using a sophisticated approach in which each process merges seamlessly with the next. Early in the morning – before work on the building site has even begun – the exact number of facade elements that are mounted in a single day are delivered to the site. A bridge crane then hoists up each required element onto a specially developed rail system – known as the monorail system – which is itself attached to the building's shell. This allows the elements to be assembled precisely and independently of the structural work.
As soon as the floor in question has been sealed and protected from the elements, dry construction can begin in the interior. Painters, plumbers and electricians are already working on both the interior of the bottom floors and on the building's cutting edge technology.
The facade is thus the garment of the ONE, but its defining features are on the inside. The architect, Professor Meurer, sums it up: "On the inside, in particular when switched on, it unveils its immense diversity in terms of communication, memory and other features. Each and every company that relocates to the ONE will write part ot its story. The building's concept is only complete with its users. Just ONE FOR US."