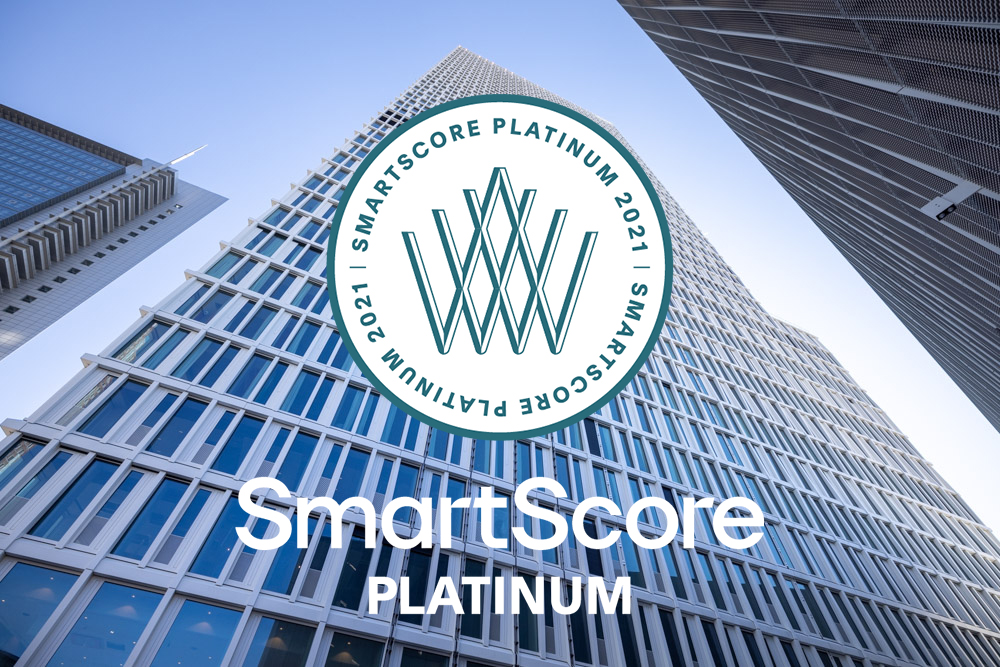 ONE is the First High-Rise in Central Europe to Receive a SmartScore Platinum Certification
WiredScore has made the ONE office and hotel tower in Frankfurt am Main the first high-rise building in Germany and Central Europe to receive the SmartScore certificate, awarding it the highest classification – Platinum. Through the use of innovative technologies and a fully integrated digitalization concept, ONE ensures maximum efficiency in operation as well as future-proofing, coupled with a smart user experience at the cutting edge of technology. The office project has already received a Platinum WiredScore certification for top connectivity, alongside Platinum pre-certification from the German Sustainable Building Council and is thus considered a pioneer in digitalised, sustainable office real estate.
Matthias Schmidt, Head of Development CA Immo Germany: "We aim to offer our tenants modern and energy-efficient buildings and to operate them in a way that preserves resources as much as possible. Technology, digitalisation and interaction with our tenants are key. With its Platinum SmartScore certification, ONE stands front and centre in a new generation of smart buildings that aim to deliver this state-of-the-art technology. With this lighthouse project, we are setting new standards in occupant comfort, data transparency and maximal functionality and efficiency in daily operation. ONE offers solutions for companies that want to combine a forward-looking occupant experience with innovative energy and resource management in their work environments, with exceptional functionality".
ONE: A Role Model for Digitally Optimised Energy and Resource Management
The whole building is equipped with smart, digital meters and a huge number of sensors. All data – on energy or resource consumption, room occupancy or air quality, for instance – is processed centrally. Tenants can access this data via their own Office Manager dashboard, allowing them to view their own daily consumption data and optimise their energy usage based on the room utilisation analysis. This means that every tenant can read and manage their water, electricity and heat consumption – as well as the resulting CO2 emissions. At ONE, it's possible for all building data to be aggregated, evaluated and used by tenants and landlords for sustainability monitoring and reporting.
In addition to this, a standardised application interface makes it possible for tenants to add further building apps and dashboards, including digital parking space management with registration plate recognition and e-charger booking, room operation with mobile apps, room reservations and activation of a wide range of individual building services. The connection of the neighbouring Skyline Plaza shopping centre to the ONE Smart Building platform's user interfaces is one of many additional, user-friendly services.
ONE: A Connectivity and Digital Infrastructure Pioneer
In view of the digitalisation of work processes and the globalisation of business, fast and fail-safe internet access is also extremely important for a company's economic success. This is why ONE has paid great attention to providing the best technical communication equipment. ONE was the first office building and high-rise in Germany to be given a WiredScore Platinum certification alongside its SmartScore certification, meaning that it's also a pioneer in connectivity and digital infrastructure.
As with all current CA Immo project developments, ONE is being developed on the basis of a holistic, future proof concept, in keeping with the company-wide ESG strategy. At ONE, sustainability and ecology were given top priority right at the start of the planning phase. This has had a positive effect in terms of a resource-efficient construction process for the building class and for energy-efficient building operation, meaning that the annual primary energy requirement is 37% below the legal standard. This is why ONE was pre-certified as Platinum by the German Sustainable Building Council (DGNB).
Mixed Use Synergy Concept for Office Tenants
What's special about ONE is that it conceptually integrates public and private uses: for the lower 14 floors, a long-term lease agreement has already been concluded with the NH Hotel Group, which is set to open a four-star superior hotel of the NH Hotel Group's lifestyle brand nhow, previously not represented in Frankfurt. A rental contract has also been agreed with Spaces for the coworking area, which will comprise around 7,000 m². With a café, cocktail bar and lounge, the lobby will not only be open to office tenants, co-workers and hotel guests, but will also deliberately appeal to external users, turning it into an urban meeting point within the district. The wide range of uses offers other advantages to office tenants, too: for example, the hotel will have a conference centre they can use, reducing the need to make provision for conferences and meetings within their own premises. The hotel restaurant is also available to office tenants. The highlight and crowning glory is the Skybar – open to the public at a height of 185 metres. The stylish bar has a circular terrace, offering a panoramic view of the skyline all the way to the Taunus mountains – the only one of its kind Frankfurt.