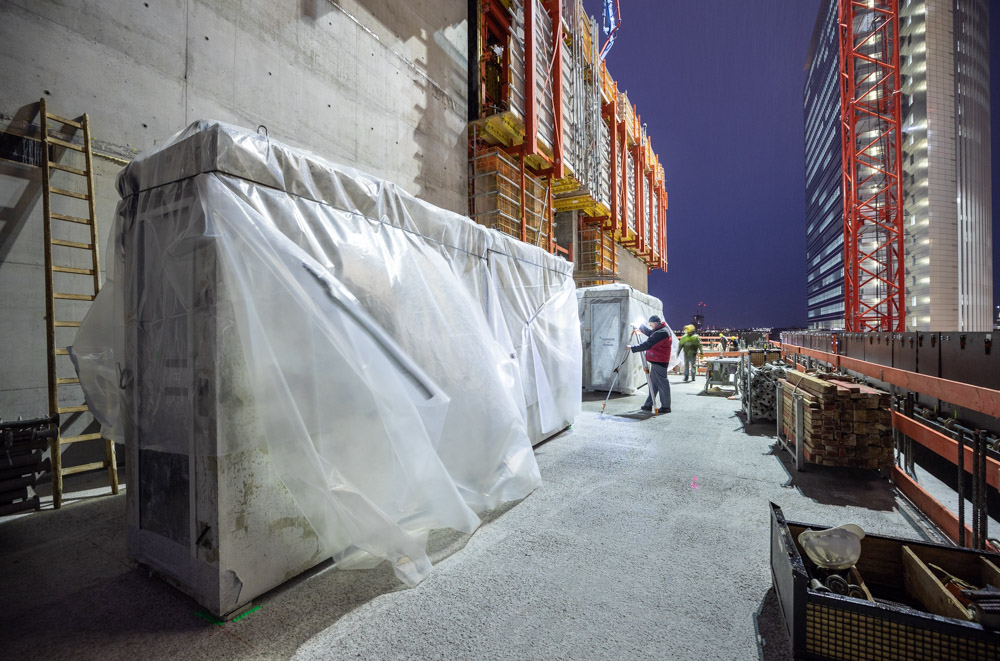 Freshen Up! The bathrooms of the nhow are complete
During the night of 25th February, the last bathrooms of the future nhow lifestyle hotel in ONE were lifted up onto the 14th floor. With that, all 352 bathrooms, pre-constructed in the workshop, are in their intended locations. The bathrooms have already been tiled, the taps, toilets and showers are installed – meaning the facilities are now operational. René Rüweler from omniCon, explains the concept behind the installation.
"Installing the bathrooms as prefabricated units has a decisive advantage: they are already finished", summed up René Rüweler with a laugh. "In the hotel room area, most of the intersections are in the bathroom units. This is the process with the widest variety of trades involved, with specialists working one after another in a short timeframe. In conventional construction, the specialists have to wait on one another, which really slows down the entire process. And of course they can only begin work when the floor in question has been finished. All this draws out the process and requires a great deal of extra on-site coordination".
The bathrooms arrive in Frankfurt – with fully equipped interiors – as self-supporting units comprising floors, walls and ceiling. In terms of structural calculations, what is desirable is a lightweight concrete construction reinforced with steel and with thin walls around 6 to 8cm. This also leaves more space for the neighbouring room at the same time. Nevertheless, construction using concrete fulfils all fire safety specifications and simultaneously guarantees best-possible noise insulation, making things as comfortable as possible for hotel guests.
Once a week, the complete bathroom units were lifted from a truck onto the then-highest floor using one of the cranes. Work on placing all the units on a given floor at their destination takes two evenings. The well-rehearsed team with the crane operator was even able to complete the job quicker than expected: the original construction plan estimated the work would take four days per floor.
When considered altogether, process optimisation and the intelligent construction methods for ONE resulted in significantly lower overall construction costs, in turn benefiting the tenants in terms of the rents offered to them.
This is also why no compromises were needed for finishing the interior of the building. On the contrary: "Owing to the fact that, for example, the bathroom units were completed in the protected environment of a production hall, the end result is a higher level of quality than would have been achieved had we opted for the units being constructed on site".
With the addition of the final bathrooms, the top floor of the future nhow hotel in ONE has been finished. Floors 15 to 46 will house the offices. All that's left is then the Skybar, the sky itself and a unique 360 degree panoramic view across Frankfurt and stretching all the way to the Taunus: ONE GOOD VIEW.