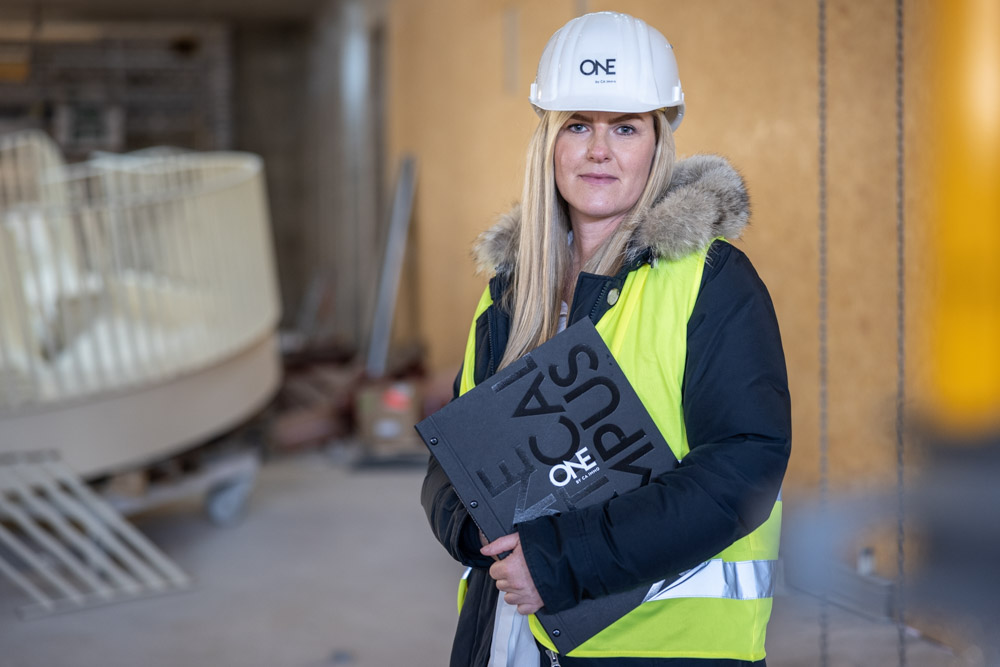 ONE GOOD TEAM - Leasing Manager and Sales Expert Nicole Wilhelm
Since mid-2019, Nicole Wilhelm has been responsible for marketing the high-rise project development ONE at CA Immo. She supports and consults interested tenants from the first contact until they move into their new office in the skyscraper.
"The focus of my work is on consulting. Often, companies that lease from CA Immo want to rethink their existing office concept or improve their current concept," reports Nicole Wilhelm, Leasing Manager at CA Immo. "My goal is to develop the optimal office solution for each of our tenants. After more than 14 years of professional experience in marketing office space, both on the broker and on the landlord side, I know the Frankfurt real estate market and the different perspectives of the stakeholders. Most importantly, I know and understand the needs of tenants."
A wide variety of layout concepts are possible in ONE, which can improve communication and creativity among employees and strengthen the corporate culture. Open layouts with open-space areas are just one of many possible solutions. Conference and meeting zones can be set up, open project areas for workshops and collaborations, and communicative lounges for informal exchanges. In combi spaces, we can implement several requirements side by side. Of course, single or double office solutions can also be implemented efficiently.
In addition to the classic Frankfurt high-rise tenant, ONE appeals to a new target group: Young, modern companies that want to express their agile working methods in an adequate setting and, in particular, benefit from the mixed use concept and the modern infrastructure that are so far unique for a high-rise of this size. Nicole Wilhelm is enthusiastic: "These are creative, great people and exchanging ideas with them is incredibly fun."
Nicole Wilhelm discusses the tenants' individual office requirements with her colleagues in Development, who then work out the best possible and most efficient solution in ONE together with omniCon, which is responsible for construction management at CA Immo, and with interior designers. Prospective tenants are often surprised at how much rental space they can save compared to their previous office space thanks to the efficient floor plans and solutions in ONE.
Nicole Wilhelm especially appreciates the diversity of her work: "As an interface between so many departments, I have the opportunity to exchange ideas with highly trained colleagues at any time. And the cooperation with our lead broker Colliers is also based on partnership and at a very high level," Nicole sums up.
"The fact that a professional team with many years of experience is standing behind the project benefits me, but first and foremost our tenants. This makes me proud."