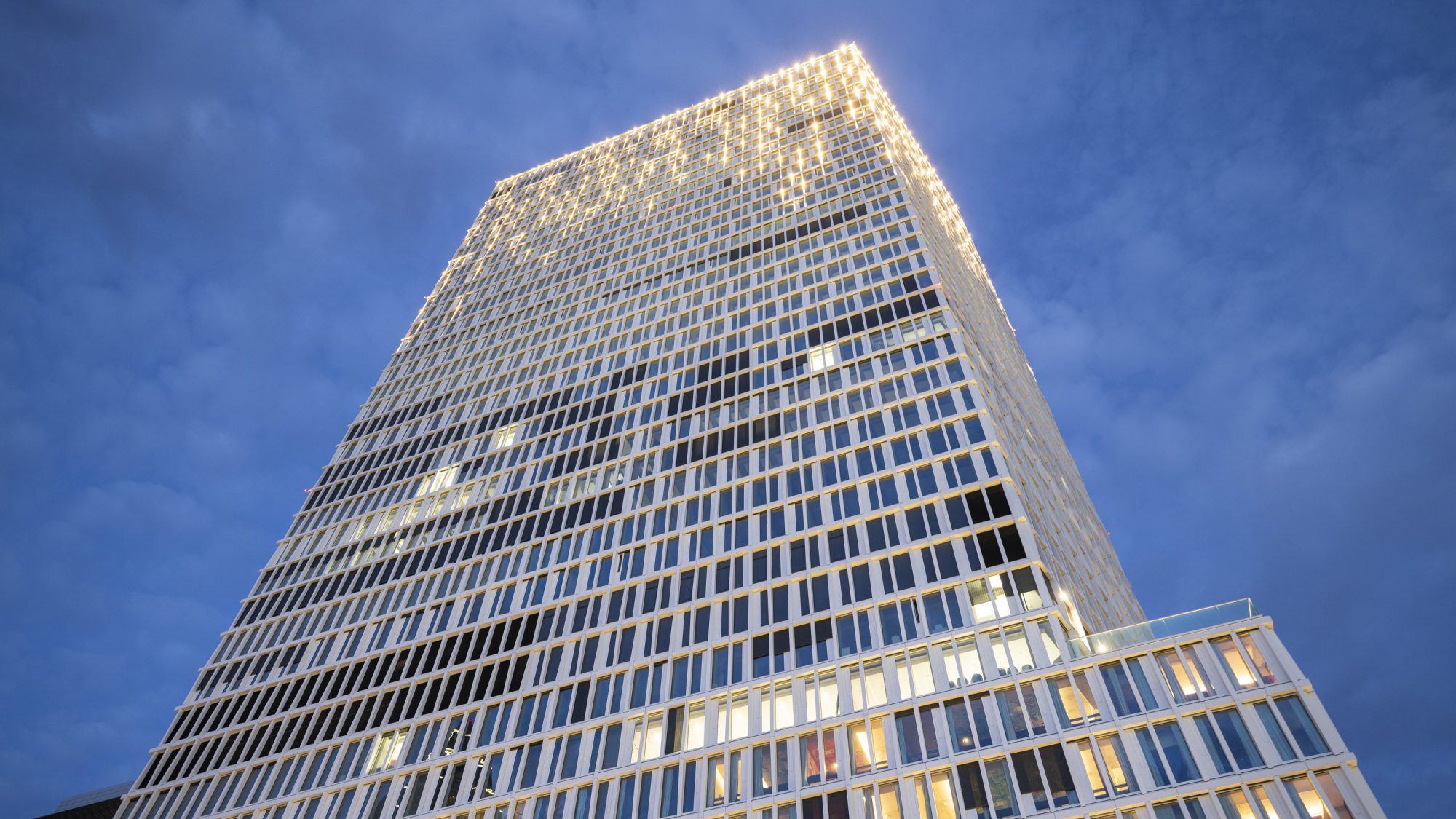 ONE GRAND OPENING - Office and hotel tower ONE officially opened
After four years of construction, CA Immo celebrated the opening of ONE on the evening of 8 September at a ceremony attended by the Hessian Minister for Digital Strategy and Development, Prof. Dr. Kristina Sinemus, and Frankfurt City Councillor and Head of the Department for Planning, Housing and Sport, Mike Josef, as well as around 300 invited guests.
Digital Minister Kristina Sinemus emphasised in the run-up: "Digitalisation should contribute to solving our climate and sustainability problem. With the planning and construction of ONE, you have taken a decisive and important step in this direction. It's great that ONE will now enrich Frankfurt's skyline as a digital beacon."
Silvia Schmitten-Walgenbach, CEO of CA Immo says: "ONE is the right building at the right time. Planned well before the COVID pandemic, ONE offers exactly what companies are looking for in times of 'new work' and hybrid work: a place where people enjoy working and living. The vertical campus is our answer to the desire for exchange, collaboration and personal encounters in an urban space. We are very proud of our entire team for successfully completing this major development project despite the adversity caused by the COVID pandemic."
Centrally located at the intersection of the banking district, Europaviertel and the trade fair centre, this office and hotel building is a pioneer in energy efficiency and modern working. ONE offers its tenants smart solutions in the fields of energy technology, digital infrastructure, connectivity and resilience. The innovative vertical campus concept combines office and coworking space, a hotel, restaurants and conference and meeting rooms under one roof on around 68,000 m² of rental space. A highlight is the public Skybar, unique for Frankfurt, with a circular terrace at a height of some 190 metres.
ONE was developed as a green and efficient office building that meets both the strict criteria of the EU taxonomy and tenants' increased demands. The high-quality architecture was penned by the Frankfurt-based architectural firm Meurer Generalplaner. For its overall concept, ONE was recently selected as one of 34 high-rise buildings worldwide (of which only four are in Europe) for the International High-Rise Award 2022/23. CA Immo's total investment in ONE amounts to around €430 million. The Group added the completed project to its building portfolio in the summer, further strengthening the quality of its property holdings.
ONE is setting new benchmarks for sustainable building operations and smart infrastructure
Like all of CA Immo's current project developments, ONE was developed with a holistic future-proof concept in line with the company-wide ESG strategy, and the issues of sustainability and ecology were given top priority from the early planning stage. Thanks to the building's resource-saving construction process and energy-efficient operation, the annual primary energy demand is around 34 % below the current legal requirements.
In addition, 'green' leases have been concluded with all of ONE's office tenants. Under such leases, the contracting parties both commit themselves to far-reaching measures to achieve the best possible standards for the sustainable, resource-efficient and environmentally friendly operation of the building and the office space. This includes arrangements regarding renewable energy, creating incentives for taking public transport, using resource-saving and environmentally friendly materials when fitting out the leased area, and more.
Matthias Schmidt, Head of Project Development and Managing Director of CA Immo Deutschland says: "Due to the resolute digitalisation of ONE and thanks to the deployment of state-of-the-art energy technology, the building can be run significantly more efficiently and therefore more sustainably, both from a landlord's and a tenant's point of view. Together with our tenants, we can reduce energy consumption so that ONE's CO₂ emissions in operation are significantly lower than those of comparable high-rises in Frankfurt."
The entire building is equipped with digital smart meters as well as numerous sensors that collect data on energy and resource consumption, room occupancy and air quality to be processed centrally. Tenants can view their own consumption data on a daily basis and optimise it in conjunction with a room utilisation analysis. Aggregated and evaluated, the data is used for tenant and landlord sustainability monitoring and reporting. For its extensive digitalisation and the optimised user experience that goes along with it, ONE was the first high-rise in Central Europe to be awarded the SmartScore certificate in the highest category, Platinum. The WiredScore Platinum certification was awarded for the building's optimal technical communication equipment with fast and fail-safe access to the internet.
Mixed-use synergy concept for office tenants
What's special about ONE is that it conceptually integrates public and private uses: For the lower 14 floors, a long-term lease has already been agreed with the NH Hotel Group, which has opened a four-star superior hotel of the lifestyle brand nhow, previously not represented in Frankfurt. The approximately 7,000 m² coworking area has been rented by Spaces and put into operation. With a café, cocktail bar and lounge, the lobby will not only be open to office tenants, co-workers and hotel guests but will also deliberately appeal to external users turning it into an urban meeting point within the district. The highlight and crowning glory is the public Skybar at a height of some 190 metres. It has a circular terrace offering a panoramic view of the skyline all the way to the Taunus mountains – the only one of its kind Frankfurt.