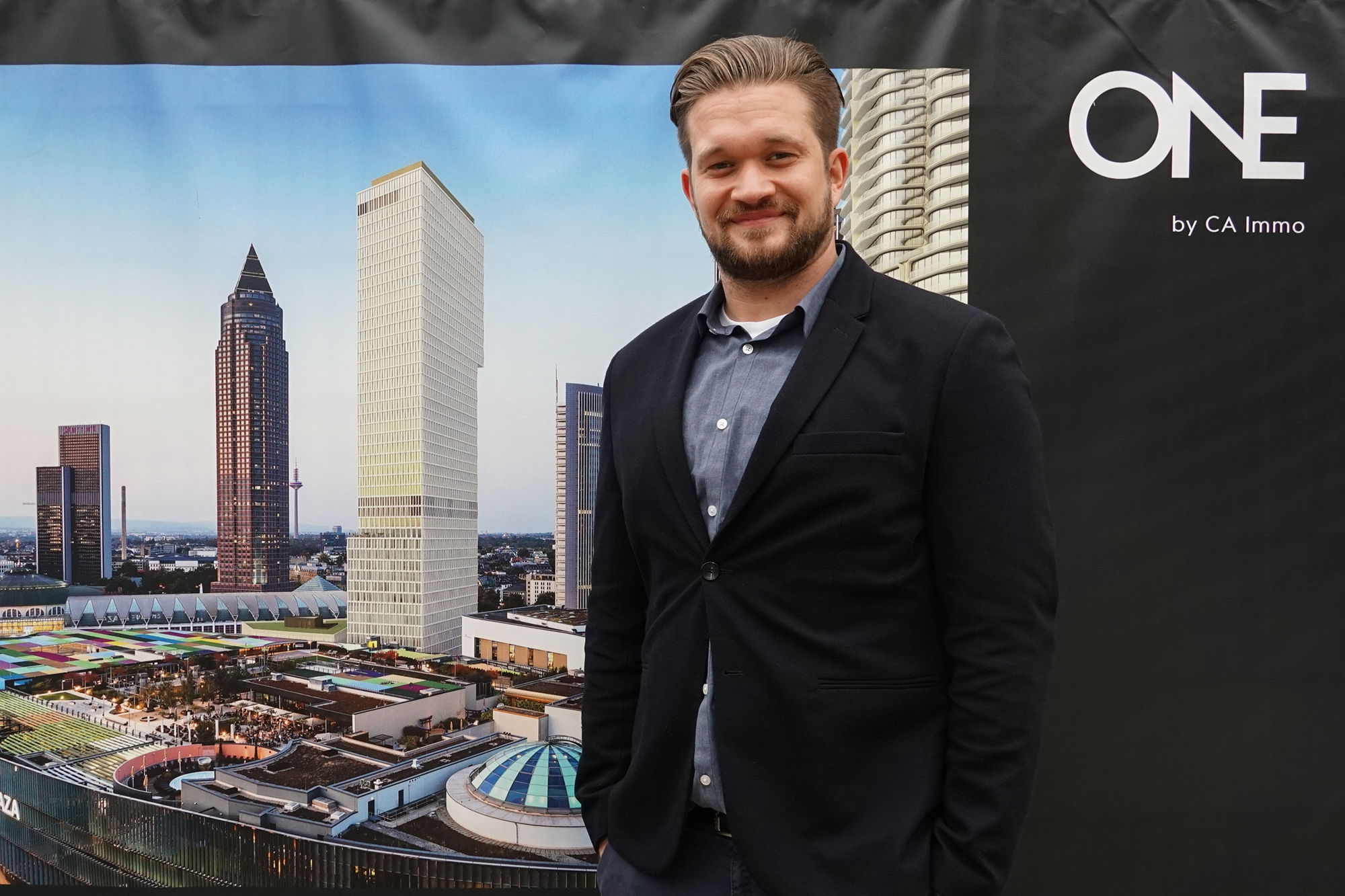 ONE GOOD TEAM - Sustainability Manager Luca Winter
No material used in the ONE can pass him by: Luca Winter is Construction Manager at the CA Immo subsidiary omniCon and is responsible for ensuring that the sustainability targets defined for ONE are observed, implemented or even exceeded.
As with all CA Immo projects since the early 2000s, ONE is planned and constructed as a green building. ONE in Frankfurt adheres to the strictest sustainability criteria of the German Sustainable Building Council (DGNB). Accordingly, ONE has already received DGNB pre-certification in the highest category, "Platinum". In addition to environmental protection, the health and well-being of ONE's tenants is also at the center of its efforts.
"We check in advance whether the material to be used meets our requirements. From shell materials to fire protection insulation, paints, finishing materials and even the smallest screw," Luca Winter explains the procedure. "Together with an independent, certified auditor, we test the materials according to a matrix specified by the DGNB. We submit the evidence to the DGNB, which in turn awards the certificate based on all the evidence provided. In this way, we permanently ensure that the products meet the highest standards of sustainability and environmental compatibility. If this is not the case, alternatives must be found. Luca Winter is in constant contact with all companies carrying out the work. Innovative tools such as BIM software, in which ONE exists as a digital image, support the process. This is because the use or modification of materials can be simulated.
Luca Winter began his education with a Bachelor of Engineering in Real Estate Management at the Rhein Main University of Applied Sciences and completed it with a Master of Science, Industrial Engineering and Management in Construction, Real Estate and Infrastructure at the Bauhaus-University Weimar. Already here he was enthusiastic about the topics sustainability and material ecology and obtained the qualification "Registered Professional" of the DGNB. Luca Winter is also responsible for tenant management and project sampling. This enables him to incorporate sustainability aspects into the expansion planning at an early stage and to oversee the sustainability management at ONE.
"High-rise projects like ONE are something very special. It is a privilege to be able to be part of it. Many projects of this size cannot be supervised in your professional life for reasons of time alone, because each one has a total planning and implementation period of around 10 years. This is a long time and you identify very strongly with 'your' project. It makes me proud to be able to contribute something through my work, especially during this time when we in society as a whole are fortunately becoming increasingly aware of the importance of sustainable action."